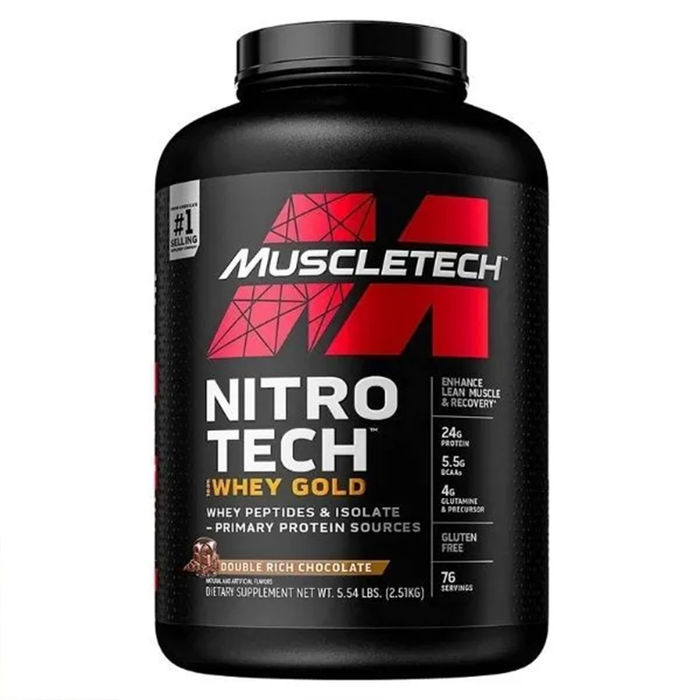 MuscleTech Nitro-Tech 100% Whey Gold 5.5Lb, Cookies N Cream
Product Code:
631656710489
MuscleTech Nitro-Tech 100% Whey Gold 5.5Lb, Cookies N Cream
Ultra-Premium Micro-Filtered Protein
Special Price
$89.99
Regular Price
$119.95
or 6 x $15.00
How Laybuy works.
Pay it in 6 weekly automatic payments, interest free. Easy.
Pay by Laybuy.
Proceed to checkout. Select Laybuy as your payment method.
Complete order.
Log in or sign up for an account in minutes.
Select schedule.
Choose your payment day. View your schedule and select pay now.
You're done.
Your items are on their way. Payments will be taken automatically each week.
Learn More
Nutritional information
Nutritional Information
Product Information
NITRO-TECH® has been a leading protein brand for over 20 years. Built on a foundation of human research and cutting-edge science, it has earned the trust of countless consumers worldwide. Now the same research and development team has pioneered a new formula based on superior protein sources, quality and manufacturing. Introducing NITRO-TECH® 100% WHEY GOLD – a pure protein formula featuring whey peptides and isolate!

FULL SPECTRUM ARRAY OF AMINO ACIDS
Rapid-absorbing hydrolyzed whey peptides to support an insulinogenic response and improved nutrient delivery
Features the most premium whey isolates and concentrate for a superior amino acid profile
5.5g of anabolic BCAAs and a class-leading 4g of glutamine and precursor for better muscle protein synthesis and recovery­
Superior cold microfiltration process yields a high biological value undenatured whey protein
Award-winning flavour and a taste you'll love
BEST-IN-CLASS TASTE!

Enjoying a clean formula doesn't mean you have to deal with excess carbs and fat. For some companies, the taste of their protein is the only thing they have going for them, so they load up their protein formulas with cheap proteins that are easy to flavour and then chase that with a load of flavouring in the form of sugar, carbs and fat. At MuscleTech®, we believe you shouldn't have to sacrifice macronutrients for results. That's why our research team works closely with some of the top protein-flavouring professionals in the world! In fact, we conducted taste tests to help us formulate a best-in-class NITRO-TECH® 100% WHEY GOLD taste profile we know you'll love.

The result is a great-tasting formula that doesn't pack the extra sugar and carbs you'll see in other protein powders. This gives you more protein per scoop and a better overall macronutrient profile.
Directions:
Mix 1 scoop with 250ml of cold water or skim milk in a glass or shaker cup. Use between major meals and before and after exercise. Read the entire label before use and follow directions provided
Servings:
Container: 5.5 Lbs.
One Serving: 1 Scoops (33g)
Servings Per Container: 76
Delivery & Returns
Standard Shipping
Standard shipping (Monday to Friday excluding public holidays) is a flat rate of $1.99.
Approximate delivery times once your parcel has been dispatched are as follows*:
Auckland - 2 business days
North Island - 2-3 business days
South Island - 2-3 business days
Rural deliveries can sometimes take an extra few days.
*During sale and holiday periods dispatch and delivery may take longer with larger volumes of orders. No deliveries on weekends and public holidays.
Evening Express Auckalnd (Pace) - $11.50
Order before 3pm Monday to Friday (excluding public holidays) and your order will be delivered between 6-9pm that evening. This shipping option will only be displayed for valid Auckland addresses at check-out.

If ordering on the weekend, your parcel will be shipped the next business day for delivery that evening. If there is no one home to sign for the parcel or it can't be left in a safe place, your pacel will via transferred to the depot for standard NZ Post delivery.