 Inspired DVST8 Diamond Reserve
Inspired DVST8 Diamond Reserve
Nutritional information
nutritional information: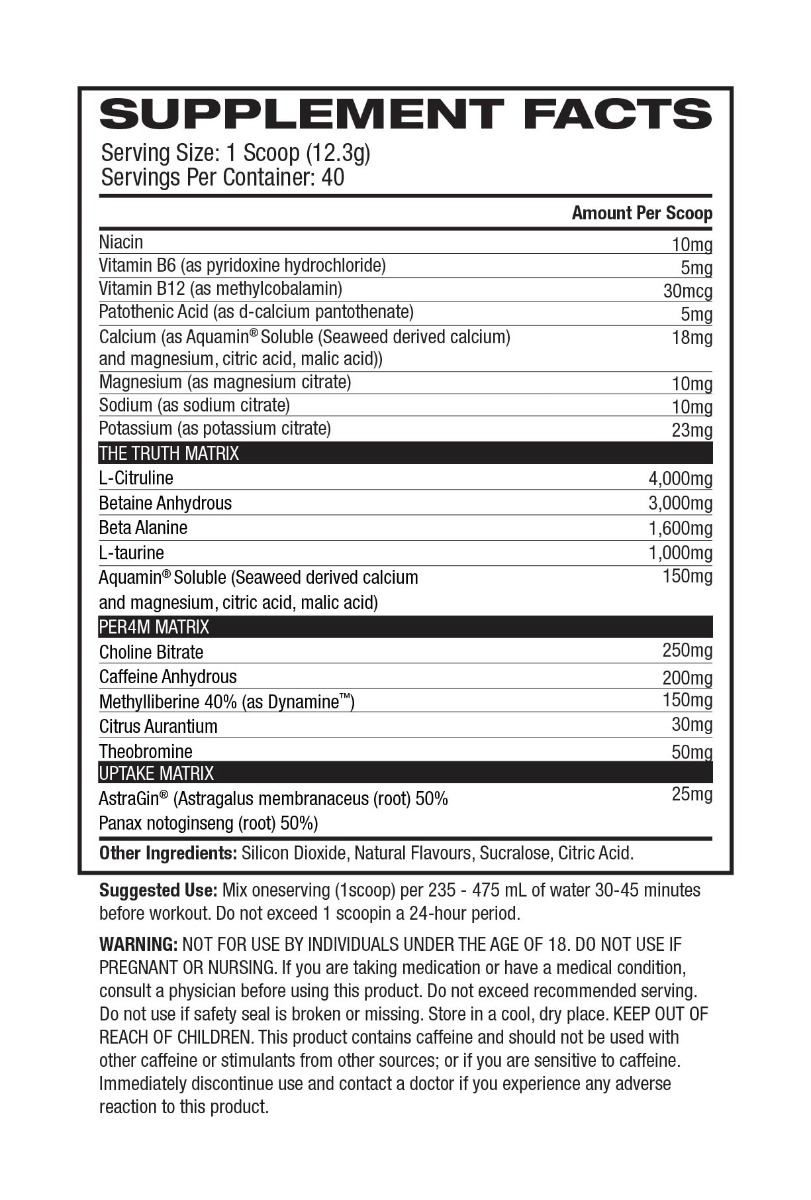 Product Information
Each time you hit the gym, you need to be asking yourself, 'Am I truly giving 110%'? If you answer no, you're leaving results on the table. DVST8 White Diamond Reserve by Inspired Nutraceuticals is a product that helps you guarantee you are maxing out your potential and getting nothing but progress from the time you spend in the gym.
With a line-up of ingredients that are simply unmatched in the industry, you're getting clinical doses that you can feel confident will help take you to the next level.
When you use DVST8 White Diamond Reserve by Inspired Nutraceuticals, you're going to notice:
Increased muscle pumps, which help deliver more blood, oxygen, and nutrients to the muscle cells
Improved motivation in the gym thanks to these enhanced muscle pumps
Better recovery between workout sessions - less downtime where you need to be focusing on building your body back up stronger. You'll be ready to go each and every time you want to hit the gym
Improved energy levels to help ensure you can put in the necessary work to satisfy your program requirements
Energy that doesn't sputter out after the workout is finished. While many pre-workout products will leave you hanging as they wear off, this is one that will keep serving you well for hours to come.
Reduced risk of muscle cramping during intense exercise
Optimal electrolyte support
Improved mental focus and concentration - you'll be able to stay 'in the zone' during your workout, free from all distractions
Enhanced mind-muscle connection
Improved uptake of all the ingredients for a supplement that really hits you hard.
DVST8 White Diamond Reserve by Inspired Nutraceuticals helps you cover all your bases so every element of your workout performance will be enhanced.
With a moderate dose of caffeine in this product, it's strong enough that you'll feel it but not so strong that you'll be left feeling worn out after using it for a while. Too much caffeine can lead to burnout, so one needs to be selective when choosing a pre-workout.
In every serving of DVST8 White Diamond Reserve by Inspired Nutraceuticals, you'll take in:
4000 mg of L-Citrulline
200 mg of caffeine
1000 mg of L-Taurine
1600 mg of Beta Alanine
Delivery & Returns
Couriers do not operate on public holidays.
Spend over $60 to qualify for free standard shipping via CourierPost.
Orders under $60 are charged a flat rate of $2.99.
Estimated delivery times* once your order is dispatched (Monday-Friday)
Auckland - overnight delivery
North Island - overnight delivery
South island - overnight, or 2 days with economy (for larger parcels)
Rural addresses - will take longer than the above stated timeframes
*During sale and holiday periods dispatch and delivery may take longer with larger volumes of orders. If you need your order in a hurry, select one of our upgrade options.
No deliveries on weekends and public holidays.
---
Pace Evening Express Auckland - $11.50
Order before 3pm Monday to Friday (excluding public holidays) and your order will be delivered between 6-9pm that evening. This shipping option will only be displayed for valid Auckland addresses at check-out.

If ordering on the weekend, your parcel will be shipped the next business day for delivery that evening. If there is no one home to sign for the parcel or it can't be left in a safe place, your parcel will via transferred to the depot for standard NZ Post delivery.
---
Urgent Tonight - Auckland suburban areas only (Albany to Papakura - non rural)
Get your order delivered between 6-9pm in Auckland for a flat fee of $15 (excluding public holidays).
To qualify, order before 3:45pm Monday to Friday and select Urgent Tonight at check out. No deliveries on weekends and public holidays.
Check if your address is with the Urgent Tonight service area. Delivery areas include suburban areas from Albany to Papakura.
---
South Island Overnight
$10 per shipment - order before 3:45pm to qualify. Valid weekdays, rural addresses will take longer. No deliveries on weekends and public holidays.
---
Priority Dispatch
Jump the queue and ensure your order gets packed and dispatched ahead of the pack for $10 (Sunday-Friday). Your order will be prioritised by a dedicated team member for dispatch. Delivery is via CourierPost standard delivery - signature required (this is not express shipping). This option is great during sale and holiday periods when we have high volumes of orders.
---
Click and Collect - Auckland only
Order online and collect your order from your preferred collection point. Please allow up to three working days for your order to be available for collection. We will contact you when it's ready.
---
Bulky items
Items such as gym equipment will be shipped via our freight forwarders and will take longer to deliver due to the size of the goods being shipped. These items are unable to be freighted via plane. Unfortunately as these are manual bookings it is not always possible to provide tracking numbers. If you require an update on the shipment of a bulky item, please contact us at sales@nzmuscle.co.nz with your order number.
---
Returns
In the event of receiving damaged, faulty (where faults not disclosed) or incorrect items, please send photos of the issue and your order number to sales@nzmuscle.co.nz within 7 days of receiving your order. Items marked Final Sale are unable to be returned.
Please refer to our Returns Policy for further information.
---
FAQs
For any other questions, please refer to our FAQs