Product Code:
810516032347
Exogenous Salts, MCT's & Tea Blend
Special Price
$29.99
Regular Price
$49.00
or 6 x $5.00
How Laybuy works.
Pay it in 6 weekly automatic payments, interest free. Easy.
Pay by Laybuy.
Proceed to checkout. Select Laybuy as your payment method.
Complete order.
Log in or sign up for an account in minutes.
Select schedule.
Choose your payment day. View your schedule and select pay now.
You're done.
Your items are on their way. Payments will be taken automatically each week.
Learn More
Nutritional information
Nutritional Information: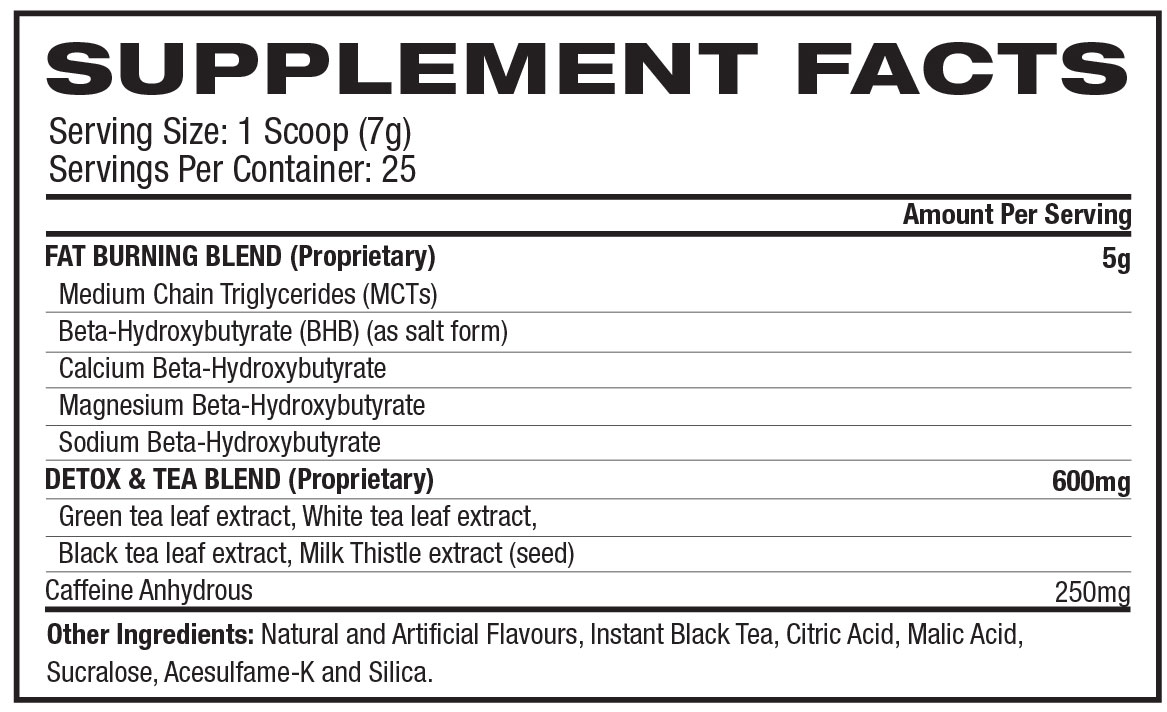 Product Information
Keto Tea is a blend of exogenous salts, medium chain triglycerides (MCTs) and tea formulated to support a ketogenic or low-carb diet.
In addition to helping those on a ketogenic or low-carb diet burn fat for energy, Keto Tea supports detox programs, energy and focus. Keto Tea contains no artificial colours.
- Caffeine - With caffeine, your body burns calories faster and you can achieve more focus for better performance.
- MCTs - Some studies have shown that MCTs, found in oils such as coconut oil, can help in the process of excess calorie burning, resulting in weight loss.
- Beta-hydroxybutyrate (BHB) salts - BHB encourages your body to use ketone bodies produced from fatty acids for energy instead of the protein in muscle or glucose.
- Green tea leaf extract - The caffeine and catechins, like epigallocatechin gallate (EGCG), in green tea are linked to fat burning.
- White tea leaf extract - One study found white tea was able to stimulate fat breakdown and prevent new fat cells from being formed. Another study suggests white tea may boost your metabolism by an extra 4-5%, which could burn an extra 70-100 calories per day.
- Black tea leaf extract - Boosts the growth of healthy gut bacteria and form metabolites that help to control liver energy metabolism.
- Electrolytes - Help the body maintain proper hydration levels. This is important while in the adaptation phase of a ketogenic or low-carb diet.
DIRECTIONS:
Take one (1) serving (1 scoop) blended into 300ml of ice cold water, drink and enjoy!
SERVINGS:
Container: 175 Grams
One Serving: 1 Scoop (7g)
Servings Per Container: 25
Delivery & Returns
Spend over $60* to qualify for free standard shipping via CourierPost.
Orders under $60 are charged a flat rate of $2.99
Estimated delivery times** once your order is dispatched (Monday-Friday)
Auckland - overnight delivery
North Island - overnight delivery
South island - overnight, or 2 days with economy (for larger parcels)
Rural addresses - will take longer than the above stated timeframes
*Excludes bulky items which are charged based on weight
**During sale and holiday periods dispatch delivery will take longer with larger volumes of orders. If you need your order in a hurry, select one of our upgrade options.
No deliveries on weekends and public holidays.
---
Pace Evening Express - Auckland & Wellington
Order before 10:30 am for Wellington and before 2:30pm for Auckland deliveries Monday to Friday (excluding public holidays) and your order will be delivered between 6-9pm that evening. This shipping option will only be displayed for valid addresses at check-out.

If ordering on the weekend, your parcel will be shipped the next business day for delivery that evening. If there is no one home to sign for the parcel or it can't be left in a safe place, your parcel will via transferred to the depot for standard NZ Post delivery.
---
Urgent Tonight - Auckland suburban areas only (Albany to Papakura - non rural)
Order before 2:30pm Monday to Friday (excluding public holidays) and your order will be delivered between 6-9pm that evening.
Check if your address is with the Urgent Tonight service area. Delivery areas include suburban areas from Albany to Papakura. If you are out of zone and select Urgent Tonight we will default to Priority Dispatch.
---
South Island Overnight
Order before 3:45pm to qualify. Valid weekdays, rural addresses will take longer. No deliveries on weekends and public holidays.
---
Priority Dispatch
Jump the queue and ensure your order gets packed and dispatched ahead of the pack for $10 (Sunday-Friday). Your order will be prioritised by a dedicated team member for dispatch. Delivery is via CourierPost standard delivery - signature required (this is not express shipping). This option is great during sale and holiday periods when we have high volumes of orders.
---
Click and Collect - Auckland only
Order online and collect your order from your preferred collection point. Please allow up to three working days for your order to be available for collection. We will contact you when it's ready.
---
Bulky items
Items such as gym equipment will be shipped via our freight forwarders and will take longer to deliver due to the size of the goods being shipped. These items are unable to be freighted via plane. Unfortunately as these are manual bookings it is not always possible to provide tracking numbers. If you require an update on the shipment of a bulky item, please contact us at sales@nzmuscle.co.nz with your order number.
---
Returns
In the event of receiving damaged, faulty (where faults not disclosed) or incorrect items, please send photos of the issue and your order number to sales@nzmuscle.co.nz within 7 days of receiving your order. Items marked Final Sale are unable to be returned.
Please refer to our Returns Policy for further information.
---
FAQs
For any other questions, please refer to our FAQs