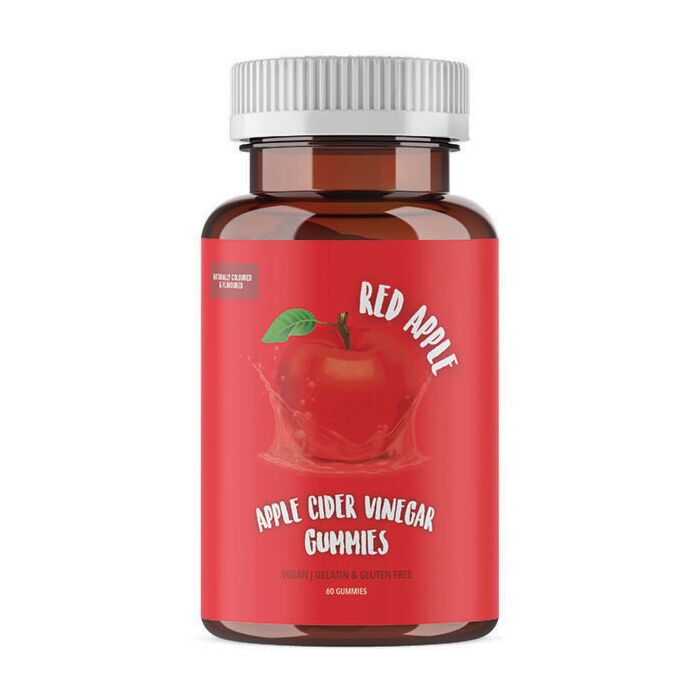 Apple Cider Vinegar 60 Gummies
Product Code:
0793618281298
Apple Cider Vinegar 60 Gummies
Vegan, Gluten Free, Naturally Coloured & Flavoured
Special Price
$9.99
Regular Price
$29.99
or 6 x $1.67
How Laybuy works.
Pay it in 6 weekly automatic payments, interest free. Easy.
Pay by Laybuy.
Proceed to checkout. Select Laybuy as your payment method.
Complete order.
Log in or sign up for an account in minutes.
Select schedule.
Choose your payment day. View your schedule and select pay now.
You're done.
Your items are on their way. Payments will be taken automatically each week.
Learn More
Product Information
Apple Cider Vinegar, packed in a great tasting gummy no nasty vinegar aftertaste! Each and every gummy is packed with vitamins and include some favourite superfoods.
vegan
gelatin-free
gluten-free
naturally coloured & flavoured
Key Ingredients;
Beetroots
Apples
Pomegranates
Vitamin B12
Citric Acid

Apple Cider Vinegar offers many benefits thanks to its high concentration of acetic acid:
Supports healthy DIGESTION
Did you eat way, way, too many cheese cubes at the party last night? We hear you. Feeling a bit of heartburn? We feel for you too. Apple Cider Vinegar is a prebiotic that helps to clean out your digestive system: we won't go into further details- you get the idea!! Apple Cider Vinegar can also help with overall gut health.

Helps improve COMPLEXION
Apple Cider Vinegar can help restore the skin's natural acidity, which may in turn, lead to healthier looking skin.

Helps reduce WEIGHT
Apple Cider Vinegar has historically been thought to help manage weight due to its high levels of acetic acid. Apple Cider Vinegar also helps to curb your appetite and increases your feeling of being full. Scientific studies have shown that those who consumed Apple Cider Vinegar experienced greater weight loss compared to those who did not.

Boosts IMMUNITY
Apple Cider Vinegar has antibacterial benefits as well as prebiotics to support a healthy immune system.

Helps your body DETOXIFY
Reducing sugar and processed foods, and following a healthy diet can be hard. AND, while eating fresh fruits and vegetables, whole grains, and lean proteins is the way to go - it doesn't always happen. So to help with your daily goal of living a healthy lifestyle, Apple Cider Vinegar works in your body to help combat the toxins you eat by increasing good bacteria in the gut.

Promotes a healthy HEART
Not only can Apple Cider Vinegar be one strategy to help maintain cholesterol in a healthy range, but Apple Cider Gummies are also packed with Vitamin B12. Vitamin B12 helps keep your blood cells healthy (along with many other benefits)..

Enhances ENERGY
Apple Cider Vinegar helps control blood levels and without a spike in blood sugar levels you should experience a more consistent level of energy throughout the day. AND as a bonus, when fatigue is related to lactic acid build-up in your body as a result of exercise or stress, Apple Cider Vinegar may help to restore energy.
DIRECTIONS:
We recommend taking 2 ACV gummies a day. First thing in the morning is deal, but you can eat the gummies at anytime of day, together or separate, with or without food! Two ACV gummies provides slightly more than the one tablespoon of the recommended dose of Apple Cider Vinegar. Two to six gummies daily, will provide the dosage of Apple Cider Vinegar that has been shown effective in clinical trials.
SERVINGS:
Container: 60 Gummies
One Serving: 1 Gummy
Servings Per Container: 60


Related: Goli
Delivery & Returns
Spend over $60* to qualify for free standard shipping via CourierPost.
Orders under $60 are charged a flat rate of $2.99
Estimated delivery times** once your order is dispatched (Monday-Friday)
Auckland - overnight delivery
North Island - overnight delivery
South island - overnight, or 2 days with economy (for larger parcels)
Rural addresses - will take longer than the above stated timeframes
*Excludes bulky items which are charged based on weight
**During sale and holiday periods dispatch delivery will take longer with larger volumes of orders. If you need your order in a hurry, select one of our upgrade options.
No deliveries on weekends and public holidays.
---
Pace Evening Express - Auckland & Wellington
Order before 10:30 am for Wellington and before 2:30pm for Auckland deliveries Monday to Friday (excluding public holidays) and your order will be delivered between 6-9pm that evening. This shipping option will only be displayed for valid addresses at check-out.

If ordering on the weekend, your parcel will be shipped the next business day for delivery that evening. If there is no one home to sign for the parcel or it can't be left in a safe place, your parcel will via transferred to the depot for standard NZ Post delivery.
---
Urgent Tonight - Auckland suburban areas only (Albany to Papakura - non rural)
Order before 2:30pm Monday to Friday (excluding public holidays) and your order will be delivered between 6-9pm that evening.
Check if your address is with the Urgent Tonight service area. Delivery areas include suburban areas from Albany to Papakura. If you are out of zone and select Urgent Tonight we will default to Priority Dispatch.
---
South Island Overnight
Order before 3:45pm to qualify. Valid weekdays, rural addresses will take longer. No deliveries on weekends and public holidays.
---
Priority Dispatch
Jump the queue and ensure your order gets packed and dispatched ahead of the pack for $10 (Sunday-Friday). Your order will be prioritised by a dedicated team member for dispatch. Delivery is via CourierPost standard delivery - signature required (this is not express shipping). This option is great during sale and holiday periods when we have high volumes of orders.
---
Click and Collect - Auckland only
Order online and collect your order from your preferred collection point. Please allow up to three working days for your order to be available for collection. We will contact you when it's ready.
---
Bulky items
Items such as gym equipment will be shipped via our freight forwarders and will take longer to deliver due to the size of the goods being shipped. These items are unable to be freighted via plane. Unfortunately as these are manual bookings it is not always possible to provide tracking numbers. If you require an update on the shipment of a bulky item, please contact us at sales@nzmuscle.co.nz with your order number.
---
Returns
In the event of receiving damaged, faulty (where faults not disclosed) or incorrect items, please send photos of the issue and your order number to sales@nzmuscle.co.nz within 7 days of receiving your order. Items marked Final Sale are unable to be returned.
Please refer to our Returns Policy for further information.
---
FAQs
For any other questions, please refer to our FAQs